NAB/NCERS & CA NHAP Approved CE Provider for Long Term Care Administrators
Lesley Powell & Associates, LLC is approved by the National Association of Long Term Care Administrator Boards.
For additional information, contact NAB at 1444 I St., NW, Suite 700, Washington, DC 20005-2210, (202)712-9040, or www.nabweb.org.
Home Study NAB/NCERS Approved CE Provider
Easy, Affordable & Quick
Purchase CE questions based on the book content

Purchase the book on-line using the Amazon or Barnes and Noble links below

After you purchase the CE, you will receive your questions via e-mail

E-mail or fax your answers to:

patricia

or (310) 872-5083.

Receive your NAB Approved Certificate of Completion via email
The Power of Many by Meg Whitman
This educational offering has been reviewed by the National Continuing Education Review Service (NCERS) of the National Association of Long Term Care Administrator Boards (NAB) and approved for 8.5 clock hours.
8.5 NAB Approved CE
$10 per CE = $85.00 (book not included see links below to order new or used book on-line)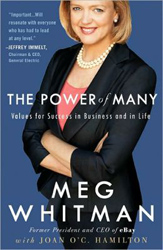 People can debate Meg Whitman politics but no one can debate her extreme success in leading companies to great personal and business success using our most basic and common sense attitudes and approaches. It's interesting how we can have good intention but need to be reminded of doing the right thing and common courtesy that empower staff and create success for the whole. This book is motivational and inspirational on both a business and personal level. It is an easy and enjoyable read.
We are currently in the process of  transferring The Power of Many and adding more NAB/NCERS Approved CE Courses to our new online CE website www.lesleypowellceus.com